WINNERS OF THE LAS VEGAS WORLD CHAMPIONSHIPS MET WITH THE PRESIDENT OF THE WEIGHTLIFTING FEDERATION OF THE REBUBLIC OF KAZAKHSTAN
May 2, 2019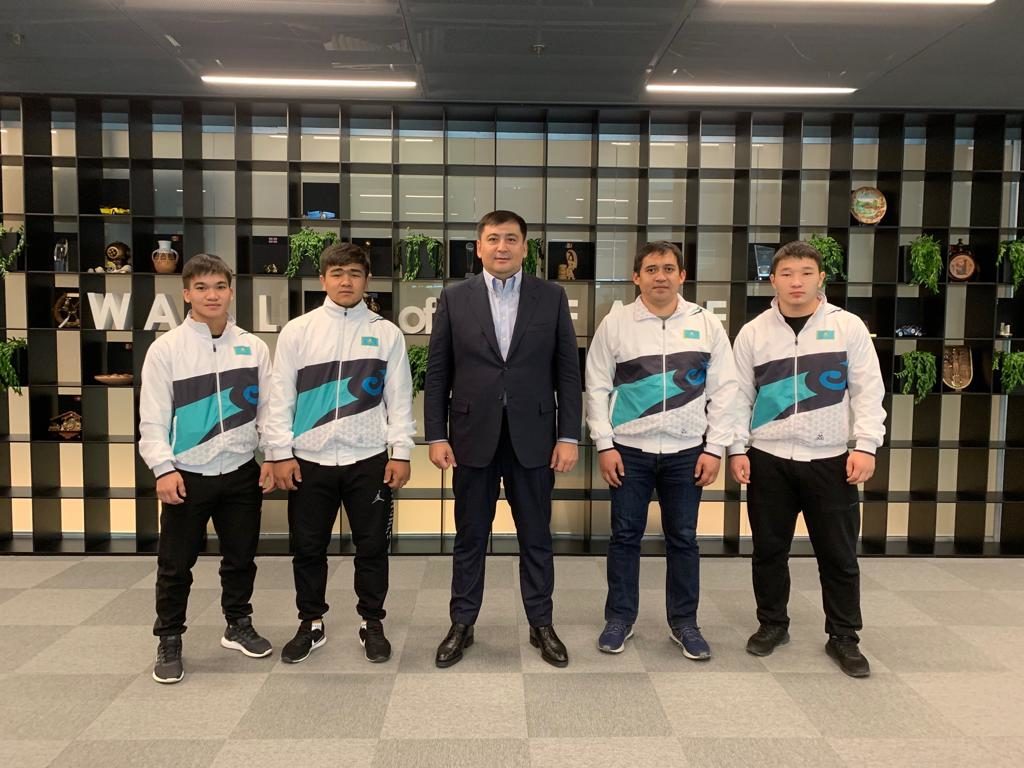 On April 19, at the office of Rompetrol Company (KMG International) in Bucharest, the athletes of the junior national team met with the president of the Weightlifting Federation of the Republic of Kazakhstan Zhanat Tussupbekov, who is also the CEO of the company. The gold medals recipients of the Las Vegas Youth World Championships Akmolda Sayramkez, Sapi Yesengeldi, Rakhat Bekbolat and the senior coach of the youth team Bakhyt Akhmetov arrived in Bucharest from Bulgaria, which are now undergoing training camps.
During the meeting, young champions shared their success story and talked about how this strong sport changed their lives. Athletes and senior trainer expressed their gratitude to the President for the comprehensive support and assistance provided by the Federation for the development and popularization of youth sports.
In turn, President of the Federation Zhanat Tussupbekov thanked the athletes and the coaching staff of the youth team for the excellent results.
Zhanat Tussupbekov said in his speech: "The youth team of Kazakhstan demonstrated outstanding results at the World Championships in Las Vegas. Gold medals of our athletes have once again confirmed that the Kazakhstani school of weightlifting is one of the strongest in the world. There is a huge work and the contribution of a large number of people who are not indifferent to the sporting future of our country standing behind the development of weightlifting in Kazakhstan. It is important to note the systemic support for the development of weightlifting as an Olympic sport by the NOC, the Ministry of Culture and Sports of the Republic of Kazakhstan and the National Company KazMunaiGas JSC, as well as Federation projects for the modernization of sports halls in the regions and the support of talents by "Zhas Kuat" program, and of course, everyday hard work of our athletes and coaching staff".
Recall that on April 5, 2019, the Federation of Weightlifting of the Republic of Kazakhstan with the assistance of the company Rompetrol (KMG International) launched a program to support young athletes from all regions of the country – "Zhas Kuat".
The program is designed for young promising athletes from regions under the age of 20 years who will receive a special scholarship during the year. In addition, the program "Zhas Kuat" provides for the renewal of the material and technical base and the implementation of repairs in the weightlifting sections of regional sports institutions.